Aqua Island
is an island in
Golden Sun: The Lost Age
. Located in the archipelago of the Apojii Islands, Aqua Island's only claim to fame is that it holds the elemental rock of water,
Aqua Rock
.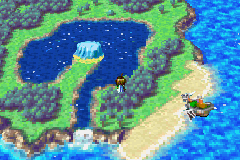 The men of the Apojii swim here when they come of age as a rite of passage. This is only one of the two islands that are accessible among the Apojii Islands.
Ad blocker interference detected!
Wikia is a free-to-use site that makes money from advertising. We have a modified experience for viewers using ad blockers

Wikia is not accessible if you've made further modifications. Remove the custom ad blocker rule(s) and the page will load as expected.