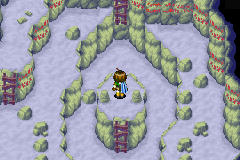 Atteka Cavern
is a cave location at the southernmost tip of
Atteka
that can be entered and explored in
Golden Sun: The Lost Age
. It is like several small cave locations introduced in
The Lost Age
in that it only contains one puzzle that leads to a
Summon tablet
. This cave contains the
Coatlicue
summon tablet, and it can only be reached by using the
Parch
Psynergy. After entering the cavern, the summon tablet is easy to acquire; however, the cavern itself is hard find: it can only be reached by using the
Wings of Anemos
to make your
Lemurian Ship
Hover
over the fields of south-western Atteka. Once you have gotten there and obtained the summon tablet, and after exiting and re-entering, you can walk through some of the rocks near the bottom and walk on air.
The summon located in this cavern is unique as it is the only summon to not damage the enemy, instead healing the player's party for several turns.
Ad blocker interference detected!
Wikia is a free-to-use site that makes money from advertising. We have a modified experience for viewers using ad blockers

Wikia is not accessible if you've made further modifications. Remove the custom ad blocker rule(s) and the page will load as expected.