"Speed party Djinn recovery with Sol's light." - Aurora's description in Dark Dawn.

Aurora is a Mars Djinni in Golden Sun: Dark Dawn.
Aurora is found in the Venus section of Apollo Sanctum.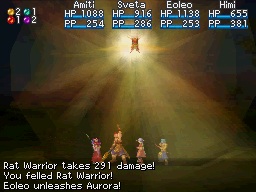 Abilities
Edit
When unleashed, Aurora helps speed up the recovery of djinn used in summons. He also increases HP by 10, defense by 2, agility by 4, and luck by 1.
Ad blocker interference detected!
Wikia is a free-to-use site that makes money from advertising. We have a modified experience for viewers using ad blockers

Wikia is not accessible if you've made further modifications. Remove the custom ad blocker rule(s) and the page will load as expected.