The city has been praised for its elaborate stonework, leading surrounding settlements to envy their stunning towers, walls, and courtyards. Along with the nearby city of Passaj, Ayuthay is a target in the war being waged by Wo, king of Kaocho.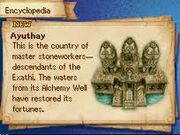 The location of the settlement was uncovered when a leaked copy of the world map was unveiled.
Cultural References
Edit
Ayuthay is a reference to the kingdom of Ayutthaya, a southeast Asian kingdom that stood for over four centuries. Located in present-day Thailand (then Siam), the kingdom once held territories in Myanmar, China, Laos, Vietnam, and the Malay peninsula. In 1765, Burmese forces swept into the kingdom, quickly overtaking the outlying villages. By 1767, the capital had been razed, destroying nearly all Ayutthayan art, literature, and historical records.
Description
Edit
The village's inn service is 32 coins per room.
Collectibles
Edit
Breath: Can be reach by using the northeast stairs in the pond. Getting it after reversing the Alchemy Well
Ad blocker interference detected!
Wikia is a free-to-use site that makes money from advertising. We have a modified experience for viewers using ad blockers

Wikia is not accessible if you've made further modifications. Remove the custom ad blocker rule(s) and the page will load as expected.