"Restore HP quickly."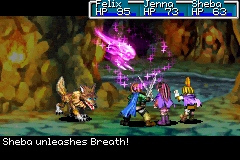 | | |
| --- | --- |
| | Breath is a Jupiter Djinni found in Golden Sun: The Lost Age, and is numerically the eighth Jupiter Djinni in the games' official Djinni ordering and thus the first numbered Jupiter Djinni of The Lost Age. |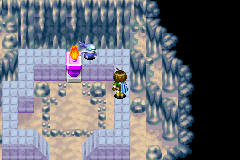 Breath is located in the Shrine of the Sea God, specifically the earlier portion explorable so long as you have the Lash Psynergy from Kandorean Temple. As soon as you use Lash on the coiled rope in the first room, a cutscene with the two young boys Riki and Tavi transpires in which they thank you and report that they were trying to catch the flying creature for themselves before the tidal wave struck. After they leave, you more or less chase Breath through some of the dungeon; one particularly important point to retain is that when you get to three stairwells in close proximity to each other, enter one of the two upper stairs and cross a bridge so that Breath is seen fleeing north from the floor below you, then return and take the lower stairs. You will then go up to where Breath is, but before attempting to catch it, press the lit-up torch against the empty section of wall, so that the Djinni will trap itself and you can battle it.
In Dark Dawn, Breath can be found in Ayuthay. It is not necessary defeat it.
As an opponent
Edit
Statistically, Breath has 184 HP, 16 PP, 37 Attack, 8 Defense, 27 Agility, and 6 Luck. Like all other Jupiter Djinn that are fought, in terms of resistance, it has a Jupiter Resistance rating of 193, Mercury and Mars Resistance ratings of 100 each, and a Venus Resistance rating of 25, and in regards to its abilities it uses its available Jupiter-based attacks with a Jupiter power rating of 125.
Breath can use the following battle commands:
Bolt: Used 76 out of 256 times, this is a Psynergy spell that causes a purple lightning bolt to strike a single Adept, dealing a Jupiter-based attack with a power rating of 20. This ability consumes 4 of its user's PP.
Slash: Used 76 out of 256 times, this is a Psynergy spell that shoots out a purple air swath at a single Adept, dealing a Jupiter-based attack with a power rating of 25. This ability consumes 4 of its user's PP.
Whirlwind: Used 53 out of 256 times, this is a Psynergy spell that causes a large whirlwind laced with electric charges to spin through the enemy party, dealing a Jupiter-based attack with a power rating of 20 and a range of 3. This ability consumes 5 of its user's PP.
Attack: Used 28 out of 256 times, this is this monster's standard physical attack, but for this monster it is counted as a Jupiter-based attack rather than a non-elemental attack.
Flee: Used 23 out of 256 times, this enemy has the ability to attempt to Flee the battle, thereby ending the battle if successful without rewarding you with the associated EXP, Coins, and the Djinni itself.
When defeated, Breath yields 43 EXP and 89 Coins, and the Breath Djinni is added to your party's Djinn collection. If you fell it with an offensive Venus Djinni like Echo, its rewards increase to 55 EXP and 115 Coins.
Sheba probably won't damage Breath as much with Ray as Jenna using Fume and Felix unleashing Echo and then summoning Venus. The room Breath is eventually fought in will be the room it would reappear in if Breath flees during battle and the party is forced to enter and exit a doorway to reset the room. After you defeat Breath, you can rather ironically use it to restore damage it may have caused you.
Description
Edit
When Set, it increases base HP by 9, base Defense by 3, and base Agility by 4.
When used, Breath cures the target party member with 40% of its maximum HP. This effect has the "strikes first" property that guarantees it to occur as the first action in a given turn regardless of the user's Agility, unless another move with the strikes-first property is used in the same turn, in which case Agility will be measured.
Ability analysis
Edit
Breath is unique for being the healing effect that can at least be relied on for being faster than any other type of healing, rather low healing output aside. There might be some specific situations where this can be useful; however, if you have it Set onto an Adept like Sheba and she acts faster than any of your other Adepts and before most enemies anyway, she is probably better off using a more reliably heavy healing item like a Nut, Vial, or Mist Potion if she is needed to provide some fast healing (though those come at a coin cost). Technically Breath gets better as the party's HP and levels raise up over time, but even at the endgame said healing items would be preferred, particularly because you get large amount of coins for your random battles.
Name Origin
Edit
Breathing is the act of moving air through the lungs. Many species must breathe in order to live, explaining why the Djinni Breath restores HP. Also, normal breathing is a fairly unconscious and automatic action, which may be why Breath always takes its action at the beginning of the turn.
Ad blocker interference detected!
Wikia is a free-to-use site that makes money from advertising. We have a modified experience for viewers using ad blockers

Wikia is not accessible if you've made further modifications. Remove the custom ad blocker rule(s) and the page will load as expected.