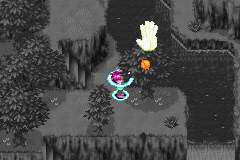 Catch is a Venus class Utility Psynergy that costs 1 Psynergy Point. When cast, it has the ability to "Grab light objects from afar," such as Nuts and Apples from trees. In Golden Sun, it is easily acquired: the Catch Beads, which must be equipped in order to use Catch, are received immediately before Isaac and Garet first leave Vale. They are given to Isaac as a gift from his mom, Dora, though she does not deliver them in person. In Golden Sun: The Lost Age, the catch beads are made available upon uniting with Isaac's Party, whether you tranfer data or not.
Unlike other Utility Psynergies you are guaranteed to receive in the game, Catch is not required to reach the game's ending.
GBA Utility Psynergy

.
Golden Sun
.

The Lost Age
.

Restorative
.
Ad blocker interference detected!
Wikia is a free-to-use site that makes money from advertising. We have a modified experience for viewers using ad blockers

Wikia is not accessible if you've made further modifications. Remove the custom ad blocker rule(s) and the page will load as expected.