The Crystal Rod is a Staff found in all Golden Sun games. Being a Staff, it can be equipped by Jenna, Ivan, Sheba, and Mia. It increases the wielder's attack by 106. It can be bought in Lalivero (in Golden Sun) and Shaman Village (in The Lost Age) for 13400 coins and sold for 10050 coins.
The Crystal Rod's Unleash effect is Drown, which converts all damage to Mercury damage and attacks with an additional 47 attack points. Also, it has a small chance of instantly killing the target, an undeniably powerful effect. Visually, Drown resembles a multitude of bubbles converging on the target from multiple directions.
In Golden Sun, the Crystal Rod is one of the game's most powerful weapons. Considering it may take an enemy out in one hit, it is definitely worth investing in. Ivan will probably be equipped with the
Swift Sword
or
Kikuichimonji
, so the Crystal Rod is best for Mia. In The Lost Age, the Crystal Rod is unavailable until late in the game, and so players will probably have already acquired stronger and more reliable weapons. A good example is the
Goblin's Rod
, which has a similar but stronger Unleash and is found just before the Crystal Rod becomes available.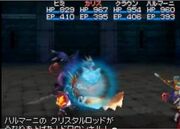 Ad blocker interference detected!
Wikia is a free-to-use site that makes money from advertising. We have a modified experience for viewers using ad blockers

Wikia is not accessible if you've made further modifications. Remove the custom ad blocker rule(s) and the page will load as expected.