Cure Poison is a Mercury-based Support-class Psynergy which removes the Poison and Deadly Poison status effects. Only Mia and Piers learn this skill without having to change their class. The manual to the North American version of The Lost Age incorrectly refers to this Psynergy as "Antidote", which is ordinarily an item that has the same effect. It is available to the classes: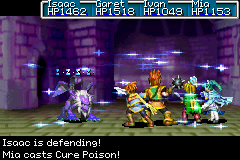 Cure Poison requires 2 Psynergy Points to cast. It is available at Level 1 for White Mage and for Swordsman (Venus), Swordsman (Mars), Seer (Mercury), Pilgrim (Mercury), Dragoon, Water Seer and Mariner at Level 5.
Analysis
Edit
This is the Psynergy alternative to an Antidote. Because it costs so few PP (2), when it is first acquired most players do not bother using normal Antidotes again. This can be a very often used Psynergy in the field because it so easily cures Poison and Venom effects Adepts may have from battle.
Ad blocker interference detected!
Wikia is a free-to-use site that makes money from advertising. We have a modified experience for viewers using ad blockers

Wikia is not accessible if you've made further modifications. Remove the custom ad blocker rule(s) and the page will load as expected.