The Demonic Staff is a Staff found in both Golden Sun games. It is sold in Lunpa in Golden Sun and in Champa in The Lost Age. It can be bought for 10000 coins and sold for 7500 coins. As a Staff, it can be equipped by Jenna, Ivan, Sheba, and Mia. It increases the wielder's attack by 92. The Demonic Staff is cursed.
The Demonic Staff's Unleash attack is Bad Omen. Bad Omen converts all damage to Venus damage and attacks with an additional 43 attack points. Also, it has a chance of haunting the target. Visually, Bad Omen resembles a normal strike with purple clouds rising out of the ground upon impact.
Like most cursed equipment, the Demonic Staff is a powerful weapon. Unlike most cursed equipment, it isn't acquired late enough into the game to prevent stronger equipment from becoming available. The end result is that it will only be used for a short time, quite possibly not at all due to the curse. If, however, it
is
used, it is advised to give the Demonic Staff to an
Adept
wearing the
Cleric's Ring
to minimize t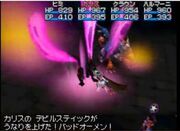 he effects of the curse, as well as giving that Adept more cursed equipment to maximize the effectiveness of the Cleric's Ring.
Ad blocker interference detected!
Wikia is a free-to-use site that makes money from advertising. We have a modified experience for viewers using ad blockers

Wikia is not accessible if you've made further modifications. Remove the custom ad blocker rule(s) and the page will load as expected.