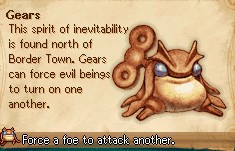 - Gear is a
Venus Djinn
and can be encountered on the overworld north of
Border Town
. A battle is required for this Djinn to join you.
Search the peninsula area that is north of Border Town and northwest of Belinsk by the coastline where there's no beach.
Djinn Guide Entry
Edit
"This spirit of inevitability is found north of Border Town. Gears can force evil beings to turn on one another."
Set Stats
Edit
(The Djinn's stats when Set)
+8 +3 +4 0 0 0
Battle Effect
Edit
The enemy will be forced to attack another enemy during its next turn.
Ad blocker interference detected!
Wikia is a free-to-use site that makes money from advertising. We have a modified experience for viewers using ad blockers

Wikia is not accessible if you've made further modifications. Remove the custom ad blocker rule(s) and the page will load as expected.