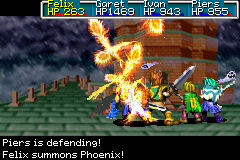 The Lich Psynergy set is a series of two Support Psynergies available to the Tamer Class series. The set is slightly unique because the later Psynergy, Phoenix, costs no more and does no more than the previous Psynergy, Lich. The only change is a different visual. Because of this it is most comparable to Helm Splitter and Skull Splitter. The entire series is available at Level 28, costs 10 PP, and all techniques revive a single Downed Adept.
In spite of having effectively the same function as the normal Revive Psynergy, these are not Utility Psynergies.
Psynergy Spells
Edit
Lich is the Beastkeeper class' variant of the technique. It brings in a Lich foe to revive an ally. It is Venus based.
Ad blocker interference detected!
Wikia is a free-to-use site that makes money from advertising. We have a modified experience for viewers using ad blockers

Wikia is not accessible if you've made further modifications. Remove the custom ad blocker rule(s) and the page will load as expected.