This article is about the element. For the Summon sequence, see Mars (summon).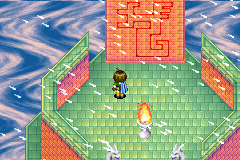 Mars
is the element of fire, and therefore encompasses fire, heat, and lava. Mars is symbiotic with
Venus
, neutral toward
Jupiter
, and in conflict with
Mercury
. The characteritics of Mars Adepts is strength and selflessness.
Adepts of the Mars element
Mars Adepts are found mainly in Prox and Vale, though they also appear occasionally in Kibombo. They tend to be hot-headed and to act without thinking. This may be mistakenly characterized as stupidity in some, especially Garet.
Mars Summons
Edit
Related articles
Edit
Ad blocker interference detected!
Wikia is a free-to-use site that makes money from advertising. We have a modified experience for viewers using ad blockers

Wikia is not accessible if you've made further modifications. Remove the custom ad blocker rule(s) and the page will load as expected.