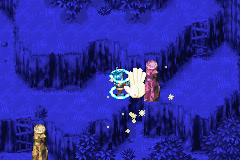 Move is a Mars-element Utility Psynergy skill that is inherently known by Isaac, Garet, and Felix at the beginning of both games that they appear in. However, in Golden Sun: Dark Dawn, it is Venus-element psynergy known by Matthew and Himi, meaning it must be a symbiotic Mars - Venus based skill. It costs 2 PP, and is a non-combat skill that moves movable items such as standing logs, rocks, and other various things. The range of the skill reaches up to two squares in front of the user, so that at maximum one square of space can be in between the target and caster. When cast, a psychic manifest in the shape of a giant hand allows you to move a movable target one space in any of the compass rose directions. Many puzzles throughout both Golden Sun games involve moving objects (usually vertical stone pillars) semi-remotely with this skill. This makes Move easily the most used Psynergy in the entire series.
In Golden Sun: Dark DawnEdit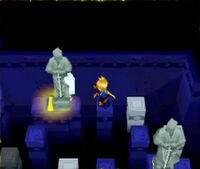 In
Golden Sun: Dark Dawn
, Move Psynergy changes from Mars alignment to Venus alignment. Only Matthew and Himi can use it.
In Super Smash Bros. BrawlEdit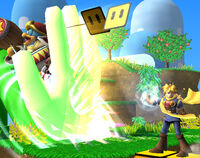 The Move Psynergy appears in
Super Smash Bros. Brawl
as the gameplay maneuver Isaac in his appearance as an Assist Trophy will perform when he is summoned. Isaac will summon a giant, corporeal gloved hand glowing green, representing the metaphorical hand that appears in
Golden Sun
, which will then accelerate forward and push back any opponent character a particular distance. Any opponent character that gets caught up in Move to likely be repeatedly knocked back in mid-air until they are "carried" off the stage, assuming there are no other obstacles in the way, which is quite a powerful in-game effect according to fan consensus. Isaac will perform this three times in succession, with roughly three seconds in between his castings, during which Isaac will turn around if more valid targets are on that side of the screen. The "pushing" effect of Move is a demonstration of an effect in the game's internal mechanics called
Set Knockback
, which is knockback like it were coming from a fighting character's attack but deals no damage and always sends the victim a certain distance back rather than a variable distance affected by the victim's life meter percentage. Isaac's Move Psynergy has the distinction of being the only thing in all of
Super Smash Bros. Brawl
that can knock back and potentially K.O. a character under the invincibility-granting effects of the
Starman
item.
GBA Utility Psynergy

.
Golden Sun
.

The Lost Age
.

Restorative
.
.
Elemental
Power
.

Elememtal
Phys. Attack

Support
.

Utility