Psynergy Vortex
Talk

0
1,230pages on
this wiki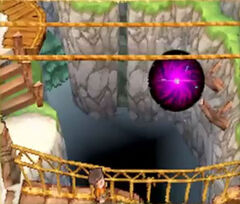 Psynergy Vortexes
are a secondary dilemma in
Golden Sun: Dark Dawn
. These are distortions in space that suck the elemental energy out of the world - and from Adepts. They are thought to be an aftereffect caused by the Golden Sun event.
In Golden Sun: Dark Dawn, one appears in the Psynergy Stone Mine, and removes the Psynergy from most of the Psynergy Stones there, and also removes Tyrell's psynergy, leaving him unconscious until he is rescued by Matthew, Karis, Isaac and Garet. One also appears in Konpa Ruins, where Kraden starts inspecting it. However, before he can learn anything from it, he is interrupted by the arrival of the Stealthy Scouts, closely followed by Blados, Chalis, and Arcanus. Interestingly, in this encounter there is a strange device with a purple core stood in front of the Psynergy Vortex, not seen anywhere else in the game.
After the events in the Konpa Ruins, no more Psynergy Vortexes are encountered until after the end credits, when Matthew, Karis and Tyrell return to their home only to find a huge Psynergy Vortex hovering near the bridge. This may well have been what Himi had been referring to in her state of unconsciousness: one of Queen Kushinada's maids in Yamata Palace tells the player that Himi had often talked in her sleep about Isaac being in danger.
Prior to the events of Golden Sun: Dark Dawn a Psynergy Vortex of incredible size appeared, and was known as the Mourning Moon (ラメントムーン Lament Moon) for the incredible misery it produced. Apparently, Vortexes on this scale are seen once every ten years. The vortex encountered after the end credits is often speculated to be the Mourning Moon.