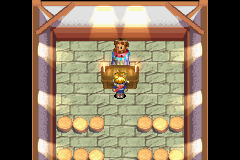 A Sanctum is the place to go to when affected by certain status effects. They are generally run by Great Healers, although these healers can often be found outside sanctums as well. Generally, Sanctums have large double-doors and a series of chairs with a path up the middle, leading up to an alter where the healer is found. They are very much similar to real-life churches, although the healers never mention religion, simply that they are "spreading goodwill". The only exceptioneller to this is in GS: The lost age in Kibombo during the ritual. When you talk to the Great Healer up on the cliff he talks about the Religion of the Kibombo as idolatry.
Sanctums provide the following services:
All Sanctums require a "donation" for their services. The amount is based on the character's level.
By holding down L and Start while loading the game, the player will resume in the sanctum of the last town visited, rather than the exact point that they had saved at.
Ad blocker interference detected!
Wikia is a free-to-use site that makes money from advertising. We have a modified experience for viewers using ad blockers

Wikia is not accessible if you've made further modifications. Remove the custom ad blocker rule(s) and the page will load as expected.