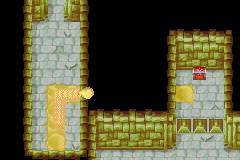 Sand is a Venus Psynergy found in Gaia Rock. It costs two Psynergy Points to cast. Felix is the only Adept who can learn this, although Isaac should technically be eligible. Sand needs to be cast when the party is standing on sandy ground, and it causes the party to dissolve into the sand on the ground and burrow under obstacles. It is used extensively in the Ankohl Ruins as well as in other dungeons.
It can be said that the King Scorpion boss in Yampi Desert is able to use this as well, but not as a Psynergy effect; it is inherently able to burrow in the sand and move around underneath the sand level with the exact field visual as when Felix uses the Sand Psynergy.
GBA Utility Psynergy

.
Golden Sun
.

The Lost Age
.

Restorative
.