Spark Shurikens
are
consumable items
obtainable in
Golden Sun: Dark Dawn
. Spark Shurikan is notable for being the signature item of
Blados
, who uses several in the player's battles with him. Additionally, Blados will drop a Spark Shurikan every time the player successfully defeats him. As a consumable item, each player can hold up to thirty of these items, and can be sold for 600 coins.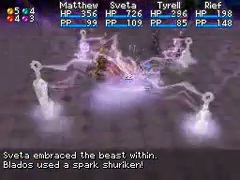 When used, the Spark Shurikan generates a series of kunai weapons that surround the opponent, before shooting purple electrical bursts which deal Jupiter damage. There may also be a chance for the opponent to be left with the stun status.
Ad blocker interference detected!
Wikia is a free-to-use site that makes money from advertising. We have a modified experience for viewers using ad blockers

Wikia is not accessible if you've made further modifications. Remove the custom ad blocker rule(s) and the page will load as expected.