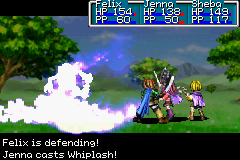 The
Tamer class series
is a special class series that is only attainable when the
Trainer's Whip
is equipped to any character. Consequently, this is one of only three class series that can be learned by any
Adept
. This class also features at least one
Psynergy
from every element as well the only nonelemental attack Psynergies.
The class series, when at its highest stage of Beast Lord and compared to the other series at their highest respective stages, has high HP, good Attack, and stronger Defense, but very low Agility (tying with the Angel and being higher only than the Hero) and the lowest PP rating of all classes. The series has a low Luck rating, tying with the Master and being higher only than the Chaos Lord. Noteworthy Psynergy from an endgame perspective includes Phoenix (equivalent to Revive), Manticore (exactly in between Cool Aura and Pure Wish), Ghost Soldier, Whiplash, Impact/High Impact, and Cure Poison, and the heaviest area-of-effect Psynergy it has is technically Fire Dragon. Average stats from an endgame perspective are 132% (144% if you don't factor in Luck).
Statistical Influence
Edit
Tamer class series
Class Name
Djinn
HP
PP
ATK
DEF
AGI
LCK
Venus Adepts
Mars Adepts
Jupiter Adepts
Mercury Adepts
Tamer
none
none
100%
70%
110%
120%
90%
70%
none
none
Trainer
1 , 1 , 1
1 , 1 , 1
130%
90%
120%
130%
100%
70%
1 , 1 , 1
1 , 1 , 1
Beastkeeper
2 , 2 , 2
2 , 2 , 2
160%
100%
140%
140%
110%
70%
2 , 2 , 2
2 , 2 , 2
Beast Lord
3 , 3 , 3
3 , 3 , 3
190%
110%
150%
150%
120%
70%
3 , 3 , 3
3 , 3 , 3
Psynergy Setup
Edit
The Tamer Class series is unique in that nearly all the Psynergy will change upon a change in class within this series. Thus, it is more convenient to think of the Psynergy in sets rather than series. However, all four classes in this series learn the Impact Psynergy series, Cure Poison, Restore, and Whiplash.
Beastkeeper
Edit
Beast Lord
Edit
With all steps of the series, ranged Psynergy will do noticeably less damage to secondary targets than comparable Psynergy of most other classes, much like the Monster Skills used by the summoned monsters.
Statistically, the Tamer leaves a bit to be desired: Sub-par agility with the dubious misfortune of having a below-average PP pool and low Luck is not a good sign. However, the Beast Lord has a pretty good Attack stat, and also fortuitous is the fact that the mainline damage Psynergy abilities (namely, the beast summons) draw from the attack stat, so the PP pool might go a little farther than it would otherwise. The class itself is also noteworthy that most of the attack Psynergy are single target, making the Tamer better for boss fights. In addition, the low agility can allow a Tamer to be used like a Paladin (heal during the end of the turn). Despite the low PP pool, the wide range of psynergy available to the Tamer makes it a very flexible class.
However, like all Item Dependent classes, specializing an Adept into the Tamer Class will leave an awkward number of Djinn floating around. Using the duplication glitch at Trial Road to create multiple copies of the class-changing items or making use of the extra Djinn to create tri-elemental classes like the Jupiter Adept version of Ninja can alleviate this issue to a degree.
Ad blocker interference detected!
Wikia is a free-to-use site that makes money from advertising. We have a modified experience for viewers using ad blockers

Wikia is not accessible if you've made further modifications. Remove the custom ad blocker rule(s) and the page will load as expected.